American Highway
Carriers Association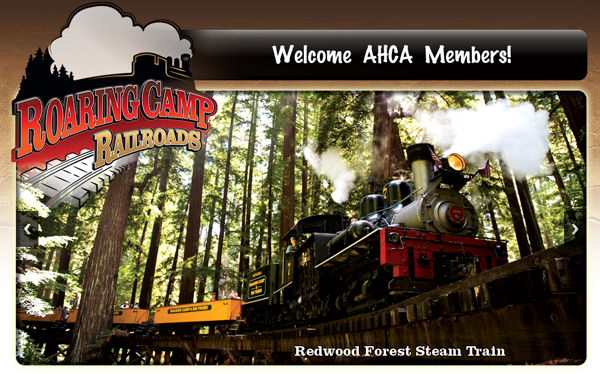 FROM TREES TO SHINING SEAS!
The Town of Roaring Camp Roaring Camp is nestled in the Santa Cruz Mountains in the Town of Felton, California. Located just six miles up the hill from Santa Cruz lies a re-creation of an 1880s logging town, operating trains every day of the year except for Christmas Day. Roaring Camp is a heritage railway with authentic 1880s steam locomotives operating on our Redwood Forest Steam Train excursion and 1920s era Beach Trains to Santa Cruz.
Activities in the town include:
Train Rides
California Redwoods Hike
Chuckwagon BBQ
Red Caboose Restaurant
Gold Panning
Blacksmithing
Candle-Making
Visits with the Town Marshal
Old Time Photo Studio
Shopping at the General Store
Horseshoes
Volleyball
Company picnics
Holiday galas
Off-site meetings and staff retreats
Take a deeper look into the venue with the following document. Remember, they can customize an event that is specific to your needs.

Below are online purchasing instructions:
Go to www.roaringcamp.com and click on tickets
Enter promo code: 20AHCA15 and set
Select date, desired train and departure time
Continue to follow instructions
6% off total purchase price on our regularly scheduled train rides.
Be sure to check out the "Events Page" for a listing of upcoming events.